Stockholm truck attack store apologises for "damaged goods" sale
Comments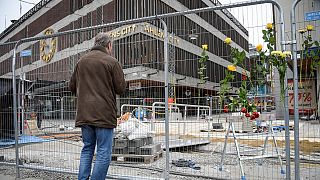 The CEO of the department store hit by a truck last Friday has apologised after proposing to sell smoke-damaged goods at knock-down prices.
Bosses at the Ahlens store retracted their decision to open on Sunday to sell the damaged products. Ahlens had circulated an email to its customers telling them about the special Sunday opening but the offer was met with angry criticism that it was opportunistic and in extremely poor taste. One customer posted on Ahlens' Facebook page that the move was "shameful", reports The Local in Sweden.
Åhlens CEO Gustaf Öhrn told Swedish media that he apologises personally for the unfortunate and hasty decision to sell the damaged goods.
"We would like to ask our customers for forgiveness for a poor decision," he said. "The background to it is that we were blinded by our eagerness to open quickly. We want to stand up for an open society and all of the values that we represent. It was a bad decision and bad decisions must be changed. Our intention was not to make money out of this difficult situation. I am truly unhappy that it is being perceived this way."
Four people were killed in the attack when the truck was driven at speed into the department store. A resulting fire was dealt with swiftly by fire services.
Swedish police have arrested a 39-year-old Uzbek man in connection with the attack.