Violent clashes in Venezuela as demonstrators denounce 'dictatorship'
Comments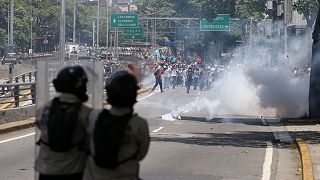 Security forces cracked down on the latest anti-government protests in Venezuela on Saturday, with violent clashes in Caracas.
Venezuela has entered a resistance stage

Opposition leader
Riot police fired tear gas, water cannon and rubber bullets as thousands took to the streets to denounce the decision to ban opposition leader Henrique Capriles from holding political office for 15 years.
Protesters lobbed rocks and petrol bombs and burned rubbish in the street.
Capriles, a two-time presidential candidate and current Miranda state governor, was seen by many as the opposition's best chance in the presidential election scheduled for 2018. But he has been disqualified from holding office for what the national comptroller's office call 'administrative irregularities'.
Venezuelans pour into Caracas streets in anti-Maduro protest. https://t.co/mD3aeUF3HM

— The Associated Press (@AP) 8 avril 2017
Capriles had urged supporters in the capital to march to the office of the state human rights ombudsman, whom the opposition says is a puppet of the government.
"Venezuela has entered a resistance stage…Now we need to resist dictatorship – because that is the path they have chosen," he said.
"They" are the authorities of leftist President Nicolas Maduro, decried by critics as a dictator.
Amid a wave of demonstrations over recent days, well over 100 arrests have been reported and one man was shot dead in violence around protests on Thursday.
Venezuelan protesters clash with police in fourth anti-government demo in a week https://t.co/oL9yXnk3hl#Capriles

— AFP news agency (@AFP) 9 avril 2017
A week of unrest was sparked by the Supreme Court's decision to assume control of the opposition-led congress. The action was quickly overturned, but the global outcry it sparked galvanized the opposition.
Marching in Caracas on Saturday, Ramon Muchacho, Mayor of the city's Chacao district, urged international monitoring of Venezuela's plight, which includes hyperinflation and crippling shortages of food and medicine.
"So far many countries have seen the Venezuelan regime as democratic. But today they can see that what is happening here is a humanitarian crisis," he said.
Euronews correspondent in Venezuela, Eduardo Salazar Uribe, said:
"After the crackdown on the march, some people went to the east of the city to continue demonstrating. They say they won't leave the streets until new elections are held."
with Reuters