Venezuela: Opposition leader Capriles defiant despite 15-year ban
Comments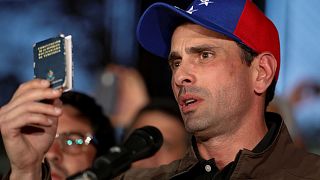 Venezuela's opposition leader is vowing to fight on, despite being barred from holding political office for 15 years.
You can shove your disqualification where the sun doesn't shine

Opposition leader
State governor Henrique Capriles was seen as the opposition's best hope of defeating President Nicolas Maduro in elections scheduled for 2018.
Authorities though have now disqualified him for what they call "administrative irregularities".
The ban is all the more reason to mobilise, Capriles told supporters in Caracas, urging them onto the streets on Saturday to protest against a president accused of leading Venezuela to dictatorship by cracking down on dissent.
#UPDATE Venezuela opposition leader Henrique Capriles effectively banned from running against president https://t.co/XQbr5UIZdVpic.twitter.com/Jfy3IYW72M

— AFP news agency (@AFP) 8 avril 2017
Capriles, a two-time presidential candidate and current governor of Miranda state, was defiant as he addressed an emotive crowd at a small sports arena in the capital.
"You can shove your disqualification where the sun doesn't shine," said Capriles, flanked by opposition leaders.
"This is not one person's struggle, this is not Capriles' struggle. This is the Venezuelan people's struggle."
Leftist President Maduro maintains he is defending the legacy of the late Hugo Chavez. But Venezuela has the world's highest inflation rate and crippling shortages of food and medicine.
The ban on Capriles is likely to further fuel the latest wave of protests that erupted after the Supreme Court assumed control of the opposition-led Congress. The outcry forced the court to back down but the demonstrations continued.
A young man died in violence around protests on Thursday.
Venezuela opposition turns ire on Supreme Court judges https://t.co/rssfXb5q31pic.twitter.com/q8sY7yO2cD

— Reuters Top News (@Reuters) 2 avril 2017
with Reuters