Venezuela: Supreme Court backtracks on Congress ruling
Comments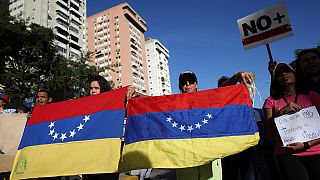 Venezuela's Supreme Court has backtracked on a controversial move to annul the opposition-led Congress.
It came amid heat from the Defence Council to review the decision.
The Council, as a body, is there to advise the government on matters relating to security and the constitution. It brings together officials from a range of sectors, including the Army, the law, government ministers and other politicians.
Speaking ahead of the Court's decision, Socialist President Nicolas Maduro claimed the conflict had been overcome.
The Latest: Venezuela's Supreme Court reverses its move to strip congress of its legislative powers. https://t.co/heQBiczgQK

— The Associated Press (@AP) 1 avril 2017
Opposition leaders decried as a coup the Court's move to assume the functions of the National Assembly, thereby stripping it of its legislative powers.
The annulment of Congress had sparked protests in the capital and condemnation further afield.
Since the opposition won control of Congress in 2015, the pro-Maduro court has blocked most of its measures. The court claims the body is in "contempt" of the law.
Venezuela's powerful Attorney General, Luisa Ortega, has levelled rare criticism at the judiciary, claiming the assumption of power "constitutes a rupture of the constitutional order".
Cracks are also showing outside of politics. Opinion polls suggest Venezuelans struggling with a fourth year of recession, the highest inflation in the world and shortages of food and medical supplies, are growing increasingly disenchanted with Maduro.