Russia slams US missile attack on Syrian airbase
Comments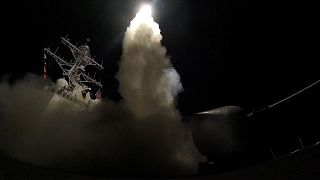 Russia has vowed to strengthen Syria's anti-aircraft defences following Washington's most direct action in the country since its civil war began.
Despite risking confrontation with Russia and Iran, the Assad regime's two main backers, earlier President Trump explained why he ordered the attack.
''It is in this vital national security interest of the Untied States to prevent and deter the spread and use of deadly chemical weapons. There can be no dispute that Syria used banned chemical weapons, violated its obligations under the Chemical Weapons Convention and ignored the urging of the U.N. Security Council," Trump said.
But, the Kremlin has slammed the US missile strike as an aggression against a sovereign state.
In Tashkent, Russia's foreign minister Sergei Lavrov compared Washington's action to the 2003 invasion of Iraq.
"Of course, it was done under completely invented reasons and reminds us of the situation in 2003 when the U.S. and Great Britain with some of their allies stormed into Iraq without the agreement of the UN Security Council, the grossest violation of international law. But then they at least tried to present some material evidence. (…)And this time, they did not even bother to bring any facts, they were only citing some photos and speculating on photographs of children," Lavrov said.
Russia's Prime Minister Dmitry Medvedev was even more explicit in his condemnation of the US action. He has said the US air strikes came ''within an inch'' of militarily clashing with Moscow.