Syria: Trump sends strong signal
Comments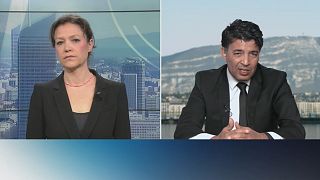 Until this week, President Donald Trump had opposed taking any military action in Syria.
That all changed after Tuesday's suspected chemical weapons attack by President Bashar al-Assad's regime.
The response from Trump was to order a ''targeted military strike'' on a Syrian airfield. US officials said the decisive move was a ''one-off'', but what happens next? Euronews' Sophie Desjardin spoke to Hasni Abidi, Director of the Study and Research Center for the Arab and Mediterranean World, to access what impact Trump's change in stance will have.
Sophie Desjardin, Euronews: "Hasni Abidi is the Director of the Study and Research Center for the Arab and Mediterranean World based in Geneva. Do you believe that, after five years of war, these American strikes mark a turning point in the conflict?"
Hasni Abidi: "For the first time there has been an airstrike, an aerial threat against Syrian military installations, despite warnings from Russia and Iran… and for that reason we can really speak about a turning point in US policy in the Syrian crisis."
Euronews: "But let's be clear. Unless the US engages in a long-term campaign, there is a very slim chance that these air strikes will make a difference on the side of the Syrian regime. So what is the aim of these strikes?"
Hasni Abidi: "President Trump has several goals. First of all, by striking a major military installation, he is sending a warning, he is punishing the Syrian regime which has not lived up to its commitments over chemical weapons. He also wants to show that he maintains a certain independence vis-a-vis Russia, and that's the second objective: the US president wants to mark a clear break, diplomatically, with the Obama administration. The question is: is this strike likely to change the balance of power? For the moment, no, because it is limited in time and space. We know that striking one air base isn't enough to reduce the military capacity of the Syrian regime and its supporters, which are very present on the ground in Syria, and are about to score victory over the armed militant groups. If this strike isn't followed up by further strikes, if it doesn't receive international backing, it won't have any effect, even on the peace negotiations in Geneva and Astana. So, really, president Trump will just score points on at home but not really in the Syrian crisis."
Euronews: "Russia and Iran have reacted firmly. However, there have been muted reactions in the Arab world. Why is that?"
Hasni Abidi: "We are not surprised about the silence emanating from the Arab world. There's always a 'wait-and-see' phenomenon. They are always the last to react but we know that one of the heavy-weights in the Arab world, Saudi Arabia, has welcomed the air strike. General Sisi, the Egyptian president, hasn't said a word but we know he maintains relations with the Syrian regime. So I think that, first of all, the Arab world is divided over what approach to take in the Syrian crisis. The Gulf countries want Bashar al Assad to leave. But that is not the case for the entire League of Arab States."