Russia says bombed rebel weapons dump caused Syria 'chemical attack'
Comments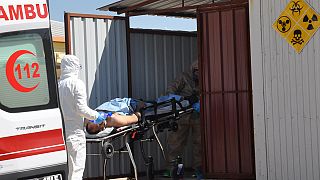 Russia has said chemical gas that killed as many as 100 people in Syria had leaked from a rebel weapons facility.
The Russian Defence ministry said the leak happened after the facility in Idlib was bombed by the Syrian air force.
Rebels in the area accused the Russian government of lying and said the gas was dropped from a plane.
The UN Security Council is due to hold emergency talks following the incident.
Video footage from rebel-held Idlib region in north-western Syria shows injured civilians choking and foaming at the mouth following an airstrike.
The World Health Organization (WHO) said victims appeared to show symptoms consistent with a reaction to a nerve agent.
The incident has been denounced as one of the worst horrors yet in Syria's civil war.
World anger at suspected Syria gas attack. Via ReutersTV</a> (Warning: Graphic Content) <a href="https://t.co/osxtQdzJRc">https://t.co/osxtQdzJRc</a> <a href="https://t.co/FrpmVEKWUg">pic.twitter.com/FrpmVEKWUg</a></p>&mdash; Reuters Top News (Reuters) April 5, 2017
Row erupts over who is to blame
US secretary of state Rex Tillerson yesterday blamed Bashad al Assad for the "barbaric attack" and urged Russia to reign in the Syrian president.
A spokesman for the Russian Defence ministry said, the victims symptoms were consistent with previous attacks by rebel fighters.
"The territory of this storage facility housed workshops to produce projectiles stuffed with toxic agents," he said.
"From this major arsenal, chemical-laden weapons were delivered by militants to Iraq.
"Their use by terrorists was confirmed on numerous occasions by international organizations and official authorities of the country."
Syrian aviation airstrike in Idlib targeted chemical arms lab — Russian Defense Ministry https://t.co/pq2qaiq2Wa

—

TASS

(@tassagency_en) April 5, 2017
Hasan Haj Ali, commander of the Free Idlib Army rebel group, called the Russian statement a "lie".
"Everyone saw the plane while it was bombing with gas," he told Reuters.
"Likewise, all the civilians in the area know that there are no military positions there, or places for the manufacture (of weapons). The various factions of the opposition are not capable of producing these substances."
The WHO put the death toll at at least 70.
It said: "Some cases appear to show additional signs consistent with exposure to organophosphorus chemicals, a category of chemicals that includes nerve agents."
WHO concerned by today's reports of large number of civilian casualties in #Idlib area, #Syria

—

WHO

(@WHO) April 4, 2017
A US government source said the Trump administration believes the chemical agent sarin was responsible for the deaths in a rebel-held area of the northwestern province of Idlib.
That verdict is shared by a British volunteer doctor treating people choking and foaming at the mouth.
"This hospital is now being overwhelmed with patients that have been hit by some sort of chemical," said Dr. Shajul Islam.
"This is not chlorine. We do not smell chlorine on this patient. This is not chlorine gas. This is not chlorine. We have seen a lot of chlorine attacks. This patient has clear, clear pinpoint pupils."
This is the latest from the Sarin attacks. Patients are still flooding in. This child's been rushed in w/o any family. They're probably dead pic.twitter.com/B4i9W97UfA

— Dr Shajul Islam (@DrShajulIslam) 4 avril 2017
The British-based Syrian Observatory for Human Rights said the attack in Khan Sheikhoun killed at least 58 people including 11 children.
But The Union of Medical Care Organizations, a coalition of international aid agencies that funds hospitals in Syria, said at least 100 people had died.
"I was asleep when the warplane hit us," said one little boy, in a hospital.
"I went outside with my dad but my head started hurting. I fell asleep and woke up to find myself here."
Reports say warplanes later struck as victims were receiving treatment.
Some of those fighting for life were taken for medical help to Turkey, which backs the anti-Assad opposition.