Renewed call for Syria's Assad to go eclipses EU conference
Comments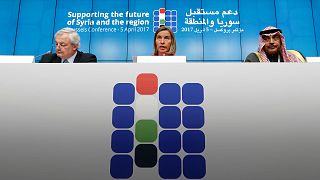 Britain and France have renewed their call for Syrian President Bashar al-Assad to go, after an alleged chemical attack by Damascus killed scores of people in a rebel-held area.
It has eclipsed an international conference organised by the EU in Brussels, aimed at shoring up stalled peace talks between Assad and his rivals.
"There must be no doubt that those responsible for violations of international humanitarian law or human rights, whoever they are, wherever they are, will be held accountable," said EU foreign policy chief Federica Mogherini.
"In particular we condemn, as I said, the use of chemical weapons as reported in yesterday's (Tuesday) attack, and demand that they cease and that accountability is guaranteed through the appropriate mechanisms. Sustainable and inclusive peace in Syria, for the Syrians, remains the objective of all our common work."
Referring to Assad as a "tyrant," Britain's foreign secretary said he was in doubt that Damascus was behind the reported chemical attack.
"All the evidence that I have seen points to the responsibility of the Assad regime," said Boris Johnson.
"If we are to get on with the reconstruction of Syria there must be a transition away from the Assad regime."
The future of Assad, who is backed by Russia and Iran, has always been the main sticking point in talks aimed at ending the war.
Speaking in Brussels, UN Secretary-General Antonio Guterres commented: "These events only prove how important this conference is, how important it is to bring together the international community to be able to put pressure on the parties of the conflict and on the countries that have influence on the parties of the conflict."
The UN has called for more billions of euros to deal with the humanitarian situation in Syria. There have been some fresh pledges during the Brussels conference.