Mock grave yard outside EU Commission aims to highlight plight of Syrian children
Comments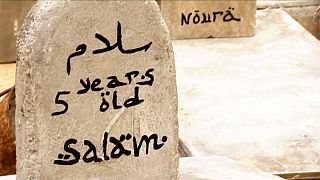 A mock cemetery has been put outside the EU Commission.
Brussels is about to host a major conference on Syria and the grave yard, which was erected by charity Save the Children, aims to raise awareness over the plight of children in the war-torn country.
Last year was the deadliest for minors since Syria's civil war began.
At least 652 were killed. But the figure only includes verified deaths, meaning the actual number could be much higher.