Lithuania warns Russia could attack 'with 24 hours notice'
Comments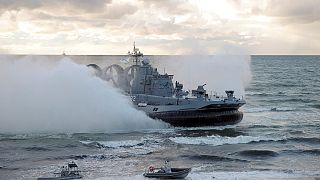 Lithuanian intelligence warned on Monday that Russia could attack the Baltic states with as little as 24 hours' notice, seriously limiting NATO's ability to respond.
There is total Russophobia, hysterical Russophobia going on

Kremlin spokesman
Sounding the alarm in an annual threat assessment, the Lithuanian intelligence service pointed to
Moscow upgrading its military in the Russian enclave of Kaliningrad on the Baltic Sea last year.
And Remigius Baltrenas, head of Lithuanian Military Counter-Intelligence, said Russia's main priority was to strengthen its capabilities towards the West.
"This is a signal to NATO to improve its decision speed," Lithuanian Defence Minister Raimundas Karoblis told reporters on the sidelines of the presentation of the report.
"NATO's reaction time is not as fast as we would like it to be."
Lithuania, Latvia and Estonia, annexed by the Soviet Union in the 1940s but now part of both NATO and the EU, have been increasingly nervous since Russia's annexation of Crimea three years ago.
Moscow said in October that it had moved ballistic nuclear-capable missiles to Kaliningrad and deployed an air missile defence system there.
Russia is monitoring and suppressing radio frequencies used by NATO pilots over the Baltic Sea and is using commercial and scientific ships for surveillance, the report said.
Lithuania has also warned that disinformation is being used as a weapon.
Russia has never accepted the Baltic version of history. But until 2014 it had no complaints about Crimea. https://t.co/raNu1NVXjq

— Kadri Liik (@KadriLiik) 3 avril 2017
Russia however has denounced the NATO military build-up on its doorstep, criticising the alliance's deployment of some 4,000 troops to Poland and the Baltic states.
Kremlin spokesman Dmitry Peskov dismissed Lithuania's concerns as a display of anti-Russian sentiment.
"There is total Russophobia, hysterical Russophobia going on," he said at a daily conference call with reporters.
"Moscow has always supported good relations with the Baltic states."
'Total #Russophobia': #Kremlin slams Lithuania's claims of possible Russian attack https://t.co/5anKrTBOAKpic.twitter.com/5vfzsg8I2W

— Sputnik (@SputnikInt) 3 avril 2017
with Reuters