Egypt to transfer strategic Red Sea islands to Saudi
Comments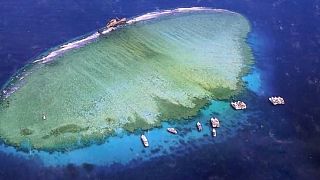 An Egyptian court has annulled a ruling blocking the transfer of sovereignty of two islands to Saudi Arabia.
Located on the strategic Strait of Tiran in the Gulf of Aqaba, the islands of Tiran and Sanafir were transferred to Saudi Arabia last April by president Abdul Fattah al-Sisi, in a move that led to protests in Egypt.
In January, Egypt's High Administrative Court rejected the government plan to transfer the two uninhabited islands to Saudi Arabia but on Sunday, this ruling was struck down by Egypt's Court of Urgent Matters. The ruling is subject to appeal and any final deal must be approved by parliament.
Egyptian troops have been stationed on the islands since 1950 at the request of Saudi Arabia, and al-Sisi says they have always belonged to the Kingdom.
But Mr Sisi is accused of violating the constitution and selling the islands in return for financial backing by Saudi Arabia.