Death toll after mudslides in Colombia rises to more than 250
Comments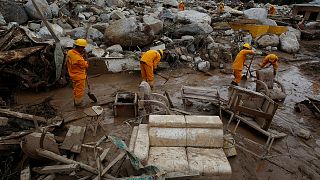 The number of people killed in flooding and mudslides in Colombia has now risen to more than 250, with more than 200 people still unaccounted for.
Rescuers are desperately trying to reach the inside of inundated buildings in the search for survivors in the city of Mocoa.
Several rivers burst their banks in the early hours of Saturday, sending torrents of water, mud and debris through numerous neighbourhoods.
The Mayor of Villagarzon, Jhon Calderon, told reporters: "We in the mayor's office, workers, citizens of Villagarzon, we're doing everything humanly possible to recover the bodies from the river and bring them to the cemetery.
"Today we have the support of the police and the army."
Hundreds of people are staying in emergency shelters as authorities try to restore water and electricity.
Many infants are among the victims and social services are attempting to reunite lost children with their parents.
The country's President, Juan Manuel Santos, is blaming climate change for the tragedy.