Serbia at the polls, with victory forecast for Prime Minister Vucic
Comments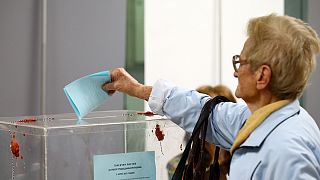 Serbia is at the polls in a presidential election expected to be an easy victory for Prime Minister Aleksandar Vučić.
The 47-year-old is predicted to win in the first round with more than 50 percent of the vote.
While the role of president is largely ceremonial, critics claim Vučić's run for the position is a power play.
Analysts forecast he is likely to retain real control through his leadership of the ruling Progressive Party.
While to some Vučić represents a cool head in the delicate balancing act between Russia and the EU membership he covets, others are mistrustful of what they say is an authoritarian streak in the prime minister, that
has enabled him to take control over the media in Serbia in recent years.
Presidential candidates in #Serbia and their number of interactions on Facebook
by @VidStimac, data @ShareDataLabpic.twitter.com/6D5sqtiHTW

— Lily Lynch (@lilyslynch) April 2, 2017
Vojislav Šešelj
Vučić's ten opponents, which include far-right Serbian Radical Party leader Vojislav Šešelj, are expected to trail way behind in the polls.
Šešelj, an ultranationalist, is running almost exactly a year after being acquitted of war crimes and crimes against humanity at The Hague.
Saša Janković
The intellectual elite has come out in support of Sasa Jankovic, a former ombudsman whom they believe capable of putting a stop to Serbia's well-documented corruption and cronyism.
Luka Maksimović
Luka Maksimović – otherwise known as 'Beli' – is making waves politically. He has used comedy throughout his campaign in an effort to engage millennial voters.
His populist message is clear: politicians are not to be trusted.