Serbian nationalist Seselj acquitted of war crimes and crimes against humanity
Comments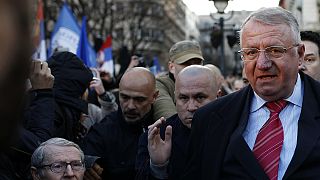 What happened?
UN judges have acquitted Serbian politician Vojislav Seselj of war crimes and crimes against humanity after initially surrendering to the International Criminal Tribunal for the former Yugoslavia in 2003.
The Serbian nationalist politician was accused of stoking ethnic hatred during the wars in the 1990s prompted by the break-up of the former Yugoslavia.
The 61-year-old was granted provisional release to go to Belgrade in 2014 after being diagnosed with terminal cancer.
However, he is still alive and has involved himself in Serbian politics during the trial, in defiance of court orders.
Who is Vojislav Seselj?
Tomorrow is a big day for the #Hague, but not for me – Vojislav Seselj https://t.co/dqpmTeNzmRpic.twitter.com/WBIDSMBNlp

— Sputnik US (@SputnikNewsUS) March 30, 2016
A close ally of late Serbian President Slobodan Milosevic
Faced three counts of crimes against humanity
Faced six counts of war crimes for inciting ethnic cleansing in Croatia, Bosnia and the Serbian province of Vojvodina
Prosecutors said he was responsible for spreading rhetoric about creating an ethnically pure "Greater Serbia."
They also say he helped set up paramilitary units to help carry out the plan.
Seselj consistently denied any wrongdoing.
If convicted, he could have faced life imprisonment. This would have required his transfer to the International Criminal Trial for the Former Yugoslavia (ICTY) in The Hague.
Dilemma averted for Serbia
Handing Seselj over to the ICTY would have angered those in Belgrade who consider the Western-backed court as biased against Serbia.
However, not cooperating could have endangered candidate-country Serbia's EU funding.
What they are saying
"If the government extradites me, then I will serve my time. I am not going back to The Hague voluntarily." – Vojislav Seselj