Russians rally against Kremlin, despite 'solid popularity' of Putin
Comments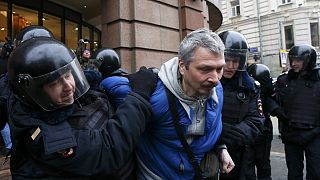 Between 20 and 30 anti-corruption protesters have been detained in Moscow as they tried to organise a march towards the Kremlin.
News agency Interfax reports the detentions were for "breaching of public order." Ahead of the rally, Russian authorities had blocked access to several web pages promoting what they branded an "illegal, anti-government protest" near the capital's Red Square.
Despite this, around 100 people turned out.
It was a considerably smaller number than seven days earlier (March 26), when the largest anti-Kremlin protests in five years erupted across the country.
Over a thousand people were reportedly arrested in Moscow alone, including opposition leader Alexei Navalny, who is serving 15 days in jail for his part in organising the March 26 rallies.
State media is said to have ignored the marches.
At a time when Russia's president is apparently comfortably popular, the demonstrations have come as a surprise to some.
Vladimir Putin's approval rating recently stabilised at over 80 percent.
The April 2 protest comes a year before the next presidential election. Its organisers describe themselves online as "young people and ordinary students from Moscow." They claim to have nothing to do with Navalny, but the wave of protests is being hailed as a new generation of political activism.
Interfax has asked Euronews to point out that it is not a state-run news agency but is in fact a privately-owned, independent, non-governmental news agency.