Colombia: Rescue efforts intensify after deadly landslide
Comments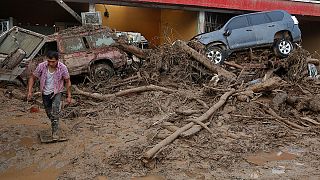 At least 200 people are now confirmed to have been killed in Colombia's landslide disaster.
The Red Cross has lowered an earlier estimate, as victims' identities are established.
But hundreds more are injured and missing in Mocoa where torrential rain caused rivers to overflow on Saturday, triggering what has been called an avalanche of muddy water.
"I was able to get the two children out of the house but we lost everything else," said one young woman.
"It is all rocks and sand."
"Nobody has given me news," a man said, surrounded by mud and rubble.
"No-one…from my house or my family. I am at God's mercy. I have nothing. Nothing to eat, nowhere to sleep. These clothes were given to me."
Death toll hits at least 200 as search continues for missing in Colombia mudslide, flooding. https://t.co/QxsSlrLwUX

— The Associated Press (@AP) 2 avril 2017
The names and ages of the missing, many of them children, are displayed on posters, as frantic friends and relatives discover the news they had dreaded.
A state of emergency has been declared in this part of southwest Colombia and the military drafted in to sift through the mud and debris, seeking, against the odds, to save any lives they can.
In the disaster zone to oversee rescue efforts and speak with affected families, Colombian President Juan Manuel Santos said:
"We will do everything possible to help them."
"It breaks my heart."
with Reuters