Krssakova outshone all other competitors
Comments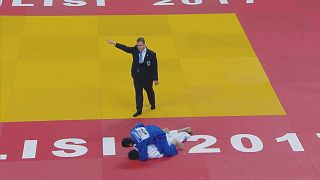 Austria's Magdalena Krssakova outshone all other competitors on the second day of the Tbilisi Judo Grand Prix in the Under 63 kilo category.
As world number forty one she wasn't expected to triumph, but wowed the crowd to gain her first world judo tour gold.
She dispatched Daniela Kazanoi of Belarus by ippon, and then repeated it with Russia's Kamila Badurova.
When she went into the final up against Italy's Edwige Gwend it ended up in golden score, a sudden death situation.
Gwend gained Bronze in Zagreb Grand Prix in 2016 but performed a weak action a minute and a half into extra time which Krssakova exploited, scoring a waza ari to win.
The enormity of the result then sunk in for the 23 year old as she celebrated the win with her coach Marko Spittka.
=============
Victor Penalber confirmed Brazil's mastery of judo in Tbilisi, winning his country's sixth gold in the 81 kilogramme title.
It wasn't a resounding victory against the world number 15, Russia's Alan Khubetsov, who appeared to throw for ippon spectacularly.
However the video referee stepped in, judging that Khubetsov had touched Penalber's leg which is a penalty offence.
Khubetsov received a third shido, which disqualified him and the bout went to Penalber, the world number 10.
============
Brazil gained yet another gold when Maria Portela gained the under 70 kilogram title.
Up against Venezuela's Elvismar Rodriguez it was a narrow and hard fought victory.
This gold was an emotional five years in the making, her last one in a world judo tour was in Abu Dhabi in 2012.
Once the world number two it was a hard fought return to top rankings
============
Man of the day was Uzbekistan's Giyosjon Boboev after he came through an epic final when the world number 9 met world number 8 Tommy Macias. The Swede started the encounter the strongest, scoring a waza ari in the early stages of the bout.
Boboev started a dramatic comeback when he countered for a waza ari of his own. He then took advantage of a mistake from Macias to trap his opponent in a pin, but was unable to hold for the full 20 seconds, so instead notched up his second waza ari after holding for 10 seconds.
As Macias pushed forwards, Boboev weathered the storm and countered for a third waza ari to come out on top of a thrilling contest.