Belarus police raid offices of TV channel
Comments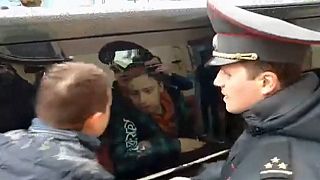 Police in Belarus have raided the offices of an independent TV channel in Minsk, seizing equipment and detaining at least one cameraman.
The Belsat network has given extensive coverage to recent anti-government protests in the former Soviet republic.
The channel is seen as an alternative to Belarus' state-controlled TV.
Journalists working in the country say they, along with government opponents, are being targeted.
Boris Goretskii, Representative of Belarusian Association of Journalists said: ''We see that the attack on the press is continuing. We thought that it would all end after the March 25. We thought that the repression would subside. But as we can see, the authorities are continuing their crackdown on journalists. Not all the journalists who were arrested on March 25 and 26 have yet been released from jail."
Last weekend, several hundred people were arrested, and some beaten, by armed riot police for unsanctioned protests in the capital Minsk.
Over the past two months Belarus, which tolerates little decent, has seen a rise in anti-government demonstrations.