Body of N.Korean leader's murdered brother arrives in Pyongyang
Comments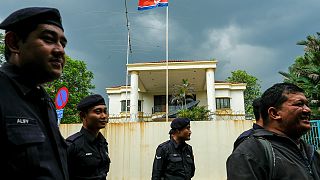 The body of the murdered brother of the North Korean leader Kim Jong Un has arrived in Pyongyang from Malaysia.
This was part of a deal to end a diplomatic standoff between the two countries.
Japanese media broadcast video purportedly showing some North Korean men wanted for questioning over the killing at Kuala Lumpur airport in February with a nerve agent.
The men were allowed to return to Pyongyang as part of the deal, and in exchange nine Malaysians were allowed to return home to Kuala Lumpur from North Korea.