Making cinema accessible to dementia sufferers in Belfast
Comments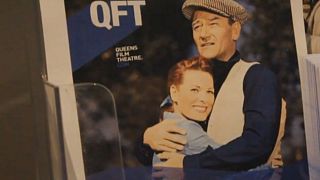 In Belfast's Queen's Film Theatre, an innovative series of film screenings kicks off this spring aimed specifically at those living with dementia.
Dementia Screenings is a programme designed to make cinema more accessible to dementia sufferers, their families and carers, and is curated by novelist and arts facilitator Jan Carson.
"Dementia-friendly screenings, similar to accessible and autism screenings, are just where we tweak the screening just a little bit to make it easier for people living with dementia to enjoy the cinema, says Carson.
"So lights are kept on in the house, the sound is set at a certain level, we use our programme really carefully and we also really emphasis welcome and hospitality so people feel at ease in the cinema.
"Really to be able to come along to the cinema, it's such a normal thing that most of use take for granted, and something we do with our friends and our family. But for us to be able to create an environment where, even though you have dementia you can still enjoy that experience."
Carson adds: "It's not that it particularly benefits or helps or improves their concentration, it's just that emphasis on being normal and doing something ordinary and enjoying quality time with people."
The first film shown in the Dementia Screenings series was the 1950s classic The Quiet Man, starring John Wayne and Maureen O'Hara. Cinemagoers are encouraged to offer suggestions for upcoming screenings, and Carson reveals that musicals are proving particularly popular.
"People living with dementia seem to really enjoy musicals in the cinema, because music obviously works very well with memory, and people like to sing along as well."
"I'm from Belfast and this to me was a feel-good experience," says Irene Harper.
"I first remember, at the age of seven, seeing this film and I think it seems to encapsulate all the corniness, the cruelty, the fun, the verve, everything that people think of old Ireland, and for me it was just a really enlivening experience."
Dementia Screenings is funded by NI Screen and upcoming screenings include High Society and Some Like It Hot. Carson hopes to welcome many more movie buffs to the QFT in the months ahead.
Carson says: "I've been working for a long time with older people, first for the City Council and then I've started to freelance now, and I've been particularly in dementia and how it impacts people and how the arts – writing, music, cinema today – can really help people enjoy a better quality of life, and also keep people out and active.
"There's an awful lot of research that says that if folks can keep plugged in, going out, meeting people, being sociable, it really helps to slow down the progress of the illness and definitely make the repercussions of dementia just not as awful."