Uber to shut down its cab-booking service in Denmark
Comments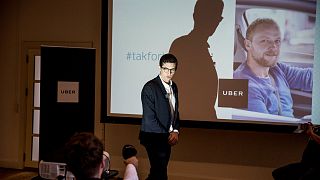 The brakes have been applied to the US online cab-booking company Uber in Denmark.
This because of a strict new taxi law that is coming into force, requiring the likes of seat occupancy sensors and fare meters.
Uber says it will cease operations in Denmark on April 18.
There are mixed opinions on the issue.
One man in Copenhagen said: "I think it's a pity because I've used it myself."
But another man said: "It's unfair competition which is why I think it's good they close."
Uber says it had about 2,000 drivers and 300,000 people using its online application in Denmark.
It has faced widespread accusations of unfair competition, not meeting regulations imposed on traditional taxi firms.
Uber said in a statement: "For us to operate in Denmark again the proposed regulations need to change.
"We will continue to work with the government in the hope that they will update their proposed regulations and enable Danes to enjoy the benefits of modern technologies like Uber."