Public hearings to begin in Senate probe into 'Russian hacking'
Comments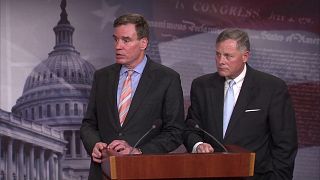 The leaders of the US Senate Intelligence Committee have jointly pledged a bi-partisan investigation into allegations of Russian meddling in the 2016 US presidential election.
At a press conference Committee Chair Republican Richard Burr and fellow senator, Democrat Mark Warner revealed that so far 20 people are to be interviewed. Jared Kushner, Trump's son-in-law and adviser, is the only one of the 20 who has been publicly identified.
Any suggestion of a link to President Donald Trump will also be investigated.
.CNN</a>: Senate intelligence leaders: 20 people to be questioned, first hearing Thursday <a href="https://t.co/t7Xuj5x8NO">https://t.co/t7Xuj5x8NO</a></p>— Richard Burr (SenatorBurr) March 29, 2017
The two senators said they also wanted to call attention to what they described as Russia's attempts to influence upcoming elections in France and Germany.
The first public hearings which begin today (Thursday March 30) will cover Russia's attempts to influence foreign elections. They said they likely would hold more public and classified hearings as the investigation continues.
"As a former tech guy what really concerns me is at least some reports, and we've got to get to the bottom of this, that there were upwards of a thousand paid internet trolls working at a facility in Russia in effect taking over a series of computers which are then called a botnet. They can then generate news down to specific areas," said joint committee leader Mark Warner.
Trump's presidency has been clouded by allegations that Moscow sought to help him win while links between his campaign personnel and Russia also are under scrutiny. Trump dismisses such assertions and Russia denies the allegations.
Burr and Warner declined to comment on the parallel investigation in the House, where the chairman of the intelligence committee, Trump ally Devin Nunes, has been under fire over his handling of the matter.