French Socialist and former PM Valls defects to Macron's centrist camp
Comments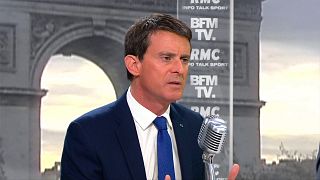 Just weeks before France's presidential election and former Socialist prime minister Manuel Valls is the latest to turn his back on his own party and lend his support to centrist Emmanuel Macron, the favourite candidate.
Valls said he believes far-right leader Marine Le Pen must not win at all costs. "It's not a matter of the heart, it's a question of reason," he told a French TV station.
France election: Valls back Macron #PrimaryElection#MarineLePenhttps://t.co/BTHmEsk5PGpic.twitter.com/VvdjXVeBny

— euronews (@euronews) March 29, 2017
Some see that as a shockingly cynical U turn: When Valls was roundly defeated by Benoit Hamon in the Socialist primaries he offered his wholehearted support.
Now Socialist party members and their voters have to face the ugly fact that Valls has done exactly what Macron did a year earlier. He has deserted them.
Quite a few Socialists have jumped ship already.
Biodiversity minister Barbara Pompili, who is in President Francois Hollande's government, was the first to desert.
Then last week Defence Minister Jean-Yves Le Drian defected.
Former Paris Mayor Bertrand Delanoe had earlier walked away, as had the mayor of Lyon Gerard Collomb.
Jean-Christophe Cambadélis, the Socialist Party's Secretary, said he was "saddened" by Manuel Valls' decision to back Macron.
"The day we have a candidate in the presidential elections, all the possible deputies will have to support this candidate," he stated.
The statutes of the Socialist Party are very clear. Loyalty to the party is the subject of an article and the rules concerning party members are unambiguous:
"They undertake to support only the candidates for elective office who are actually invested or supported by the Socialist Party."
And then there is a paragraph that skewers Valls so comprehensively:
"Primary candidates must undertake to publicly support the nominee and engage in his or her campaign."
But although Valls may have lost spectacularly to Hamon in the Socialist primaries, now that he is walked away from the party, he is free to build his own power base elsewhere.
And that might just be his back route into a government position – if Macron wins and he may well get himself inserted into a new centrist government.