France's former PM Valls backs Macron for president
Comments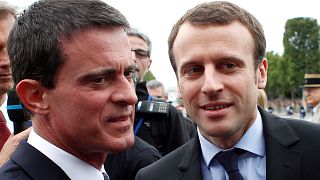 After weeks of speculation, former Socialist Prime Minister Manual Valls has said he will vote for Emmanuel Macron in France's forthcoming presidential election.
The move by Valls to throw his weight behind the independent centrist breaks a signed deal to back his own party's candidate.
The decision prompted immediate thanks from Macron.
"First of all, I'd like to thank him.
and it shows that the social-democrats and responsible men and women on the left are ready to sign up for what I'm doing," Macron said.
Macron, however, appeared to rule out any future role for Valls.
"I will guarantee that we see new faces, new practices,'' he said.
When asked by a journalist whether that meant he wouldn't necessarily govern with Valls if elected, Macron said:''You've understood correctly.''
The defection sparked a furious reaction from the Socialist party's presidential candidate Benoit Hamon.
"The instigators, the spokesmen and the theorizers of the decisions, which did so much harm to the left regarding the forfeiture of nationality or the labour law, have found or find refuge from now on with Emmanuel Macron."
Hamon, who comprehensively defeated Valls in the Socialist party's presidential primary, but currently lies fifth in the opinion polls, also called on the left to unite following the move.