Rare breeding tigers caught on camera in Thailand
Comments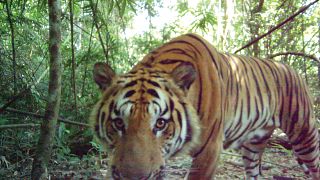 These images of rarely seen Indochinese tigers in eastern Thailand have excited conservationists.
They're evidence of only the second breeding population in the world and the first in eastern Thailand in 15 years.
There are believed to be as few as 3,900 Indochinese tigers in the wild, and only 221 in Thailand and Myanmar.
This discovery, captured by hidden cameras, gives conservationists hope for growth of the region's populations.
Wild cat specialists Panthera are optimistic this group could help repopulate Cambodia and Laos. Senior Tiger Program Director, Dr John Goodrich said he hopes the population could develop into a "tiger stronghold… serving as a source of life and diversity for depleted tiger populations".