EU orchestra to leave UK for Belgium because of Brexit
Comments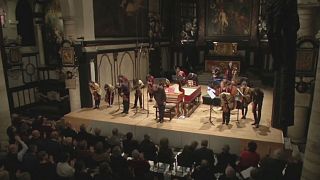 The effects of Brexit will be felt far and wide, with some of the consequences more expected than others.
For example, the impact in the UK's cultural sector is only just starting to be realised.
One of those affected is the European Union Baroque Orchestra, which is having to move from its base near Oxford to Belgium.
Paul James, the Director General of the orchestra, said: "It was like being winded in the stomach. I mean I really felt physically ill, depressed.
"Because it clearly made no sense to try to run a European Union entity from outside of the EU."
Katarzyna Szewczyk, a Polish violinist in the orchestra, said: "It will be much more difficult to live or work in the UK so I think it is a difficult thing now to decide what to do.
"And many musicians in the UK I think have this problem now, because they just live for a long time in the UK and they have families".
The ensemble has been bringing together young musicians from across the European Union for the past 32 years.
The orchestra will move its office and legal base to Antwerp next year, to ensure it remains in the EU once Britain leaves the bloc.
Many other similar cases are likely to emerge as the UK's divorce from the EU moves closer.
Your questions about Brexit answered