Baby Boom in Berlin: A city struggling with waiting lists
Comments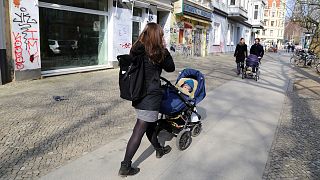 Ida was born in July 2016.
Her mother, Sara, began her search for a midwife three months in to her pregnancy.
She quickly realised it would not be easy to find someone based locally who she could rely on.
After dozens of phone calls, Sara gave up and simply booked the first midwife who was willing to take her.
But it was only the start.
Midwives are currently three or four times oversubscribed in Berlin. Twenty-four hours a day are just not enough to do our job accurately.

President of the Berlin Association of Midwives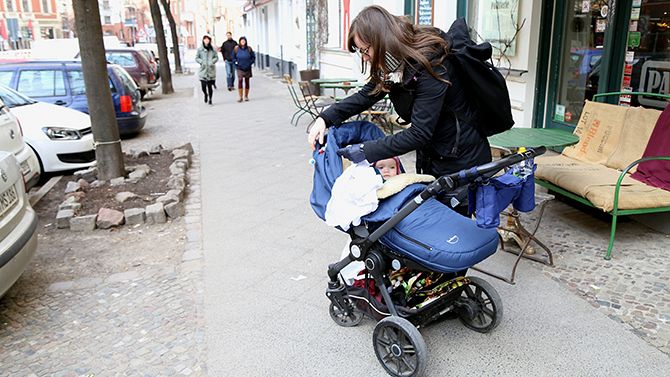 "In the fourth month we went to a regular information session of my first choice hospital.
"The room was so full, that we couldn't find a place at first. "Extra chairs were needed, although the room was big and they are organizing such an event almost every week.
"As I saw how many women would like to register for this hospital, I was afraid we won't get a place, but we had luck in this case.
"The registration for the birth preparation classes did not go so easily.
"I had to call them every day for three weeks to be able to speak someone in person and not only the answering machine.
"And as the course began the instructor warned us not to be surprised if on the day of the birth we are not accepted by the hospital.
"I was scared."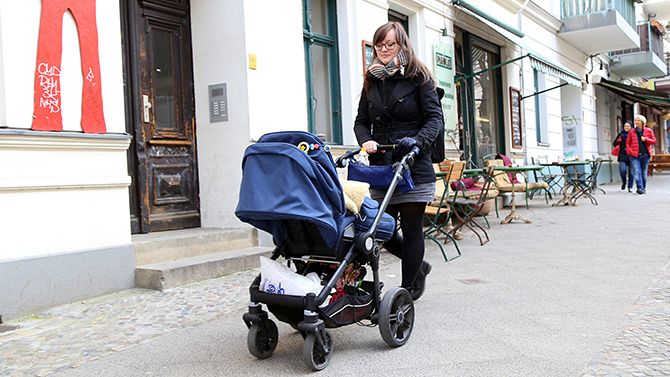 Fully booked maternity units
Although German parents-to-be have the right to decide which hospital they want to give birth in, it is common that they end up at a different hospital on the day.
An increasing number of delivery rooms are being closed temporarily because they have reached full capacity.
One of the biggest hospital complexes in Berlin, Vivantes, where around one-third of the babies in Berlin come in to the world, stopped ambulance services from bringing women to the hospital for 12 days in January 2017 because of capacity problems.
Kristina Tschenett, the spokeswoman of Vivantes said an office had to be converted into a sick-room to be able to help more patients.
Birth rates in Berlin have been growing since 2005. And in the last ten years there has been more births than deaths. Overall in Germany, which has a population of 82 million, around 150-200 thousand more people die than are born. But in Berlin, where around 3.6 million live, there were around 5,000 more births than deaths in 2014 and 2015.
"Although immigration is a key factor in Berlin's reversal of the declining rates of the 1990s, the refugee crisis alone does not explain the current trend," says Christoph Lang, the spokesman of Senate Department for Health.
"Even before the refugee crisis Berlin was one of the main destinations of migrants. And not only from abroad.
"A lot of young Germans are coming to the capital to study, to start a family or a career but afterwards they move on.
"That is why Berlin became the youngest city of Germany.
"An average citizen of Berlin is almost two years younger than an average citizen of Germany."
According to Lang, Berlin's growth poses enormous challenges for the administration, elected last November.
It wants to improve daycare facilities for children as well as solve the problem of low staffing levels, especially the lack of midwives.
24 Hours Are Not Enough
"Midwives are currently three or four times oversubscribed in Berlin. Twenty-four hours a day are just not enough to do our job accurately", says Susanna Rinne-Wolf, president of the Berlin Association of Midwives.
The organization has 950 registered members, but there are no statistics about the exact number of midwives working in the German capital. However, a survey of the Federal Association of Midwives last year showed that 90% regularly work overtime and at least half of the midwives working in a hospital have to care for three or four women at the same time.
"I would not say, that this is a safe maternity service. None of the hospitals should wonder why only 20% of the midwives are willing to work full-time for them.
"Working in a ward means being underpaid and over-strained. Hospitals should make this job more attractive, more positions and a better payment should be offered to make it a safer service and to make one-to-one care possible."
Rinne-Wolf argued that if the Berlin Senate would improve these working conditions more midwives would be willing to work in a hospital.
From waiting list to waiting list
Ida's mother, Sara was not just worried about the situation in the hospital.
"Having a child in Berlin is synonymous with continuously queuing. You get from one waiting list to another. First, you are waiting for a gynecologist, than for a midwife, for a hospital, for a prenatal class, even for the stroller.
"At the moment we have already been waiting for four months for a place in a day-nursery. And it is not because we have extra demands.
"The most annoying part of this is that you are just not in the position to choose the institute or the person who cares for your baby.
"You have to take who and what you can get. I would have not expected this in the capital of Germany."
Dóra Diseri, Berlin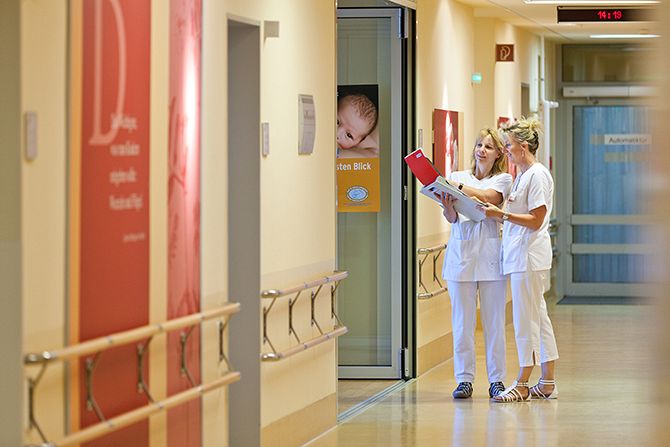 Vivantes / Röhl