Anti-militarism groups clash in Madrid over defence exhibition
Comments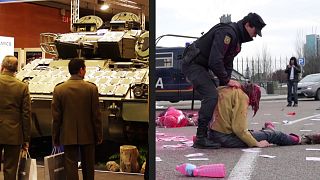 Homsec is an exhibition held in Madrid for the defence and security sectors, attended by more than 15,000 visitors from 40 countries and 195 exhibitors.
Some locals have objected to the showcase. The city council announced, prior to the event, that it would not be among the sponsors of the show.
In turn, the anti-militarism group Desarma Madrid, which brings together various organisations and activists, took part in a non-violent demonstration against the event. As a result of their actions, 19 demonstrators were detained by the police.
The organisers of the exhibition highlight their contribution to the defence and security industries and Spain's role as a geo-strategic axis in the relationship with Latin America, Africa and the Middle East.
The defence industry generates more than 150,000 direct jobs and many others indirectly.
In turn, Spain's defence budget is around 7 billion euros per year.
Hernán Crespo for euronews