Spanish weapons in the international market
Comments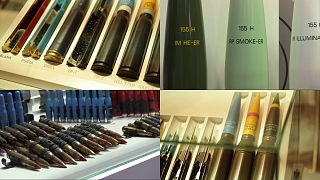 Homsec is an exhibition of the Defence and Security sectors attended by more than 15,000 visitors from 40 countries and 195 exhibitors in the city of Madrid during the month of March.
For this year's edition, organisers have made internationalisation and new technologies the main areas of innovation. In response, some organisations staged protests that questioned the purpose of an exhibition of this type in the Spanish capital, unleashing a debate about the military industry, its benefits and its role in the today's world.
What kind of technologies and armaments can be found at an event like Homsec?
Weapons and Technology
• Personal protective gear, clothing and weaponry.
• Special vehicles like the Falcata, a utility "mechanical mule" to transport heavy equipment.
• Armoured combat vehicles such as the ASCOD Pizarro II (known in Austria as Ulan), jointly developed by companies from Spain and Austria.
• Multi-functional, modular, high-effect turrets in the 25-120mm range for light and medium weight armoured vehicles.
• Special all-terrain vehicles for military use like the Vamtac, the Spanish version of the famous Hummer.
• Remote Control Weapons Systems (RCWS) such as the 12.7mm and 30mm Guardian and their simulation systems.
• Thermal cameras such as SPARROW and AOMRS (Advanced Observation Multi-Role System).
• Tools for protection, interception and attack in the field of the cyber-intelligence.
• Analysis and protection from cyberattacks. As well as means to launch attacks of your own.
• Aerial, marine and terrestrial intelligent autonomous vehicles (SAVs) for the Security sector with applications such as remote installations, unattended areas, detection of people and security in events and demonstrations, among others.
• Technology for communications, Optronics, surveillance radars, air navigation aids, sonar minehunters, solutions for unmanned air vehicles, the detection and neutralisation of drones, as well as land systems, among others.
• A wide range of ammunition and integrated logistical support systems for military vehicles and aeronautical systems.
• Vehicles for loading and unloading military aircraft cargo like the air-transportable K Loader as well as other aircraft and helicopter handlers.
• Representations of official institutions like the Spanish National Police, the Spanish Navy, the Air Force, the Civil Guard and the Army.
• Numerous defence and security magazines.
• A great diversity of other products and services, from tents to service dogs for detection, defence, custody and protection.
Who organises Homsec?
The exhibition is coordinated and organised by the Atenea Group, a Spanish company headed by former members and Generals of the Spanish Armed Forces. Its official objective is to contribute and promote the culture of Security and Defence. Its critics, such as the anti-militarist group Desarma Madrid, question their motives and denounce the involvement of its president, Jose Luis Cortina, with the attempted of 23-F coup d'état in Spain in 1981. Cortina spent a year in prison for his alleged involvement until he was acquitted by the Supreme Council of Military Justice in June 1982.
International Trade
The defence industry generates more than 150,000 direct jobs and many others indirectly. In turn, the defence budget of Spain is around 7 billion euros per year. The value of exports of defence equipment made in the first half of 2016 was 1,837.6 million euros, an increase of 6.4 percent compared to the first half of 2015.
According to official figures, 51.3 percent of these exports went to EU and NATO countries (942.5 million euros).
The remaining exports (€ 895.1 million, 48.7 percent), after deducting all those destined for EU and NATO countries, were distributed among 53 countries, including Oman with € 195.9 million, Egypt with € 138.1 million for five transport aircraft (€ 136.9 million) and Malaysia for € 135.7 million.

Controversies, Saudi Arabia and Yemen
In recent years, Spain has signed several military cooperation agreements with Saudi Arabia, specifically, a cooperation agreement on defence matters between the two countries in 2008 and a technical agreement for the training of Royal Saudi Air Force personnel on Eurofighter fighter planes by Spanish Air Force personnel in 2010.
At the same time, Yemen is currently embroiled in a civil war in which Saudi Arabia actively participates through a military intervention that has included massive bombings of both military and civilian targets. Since the beginning of the intervention, in March 2015, international organisations have reported tens of thousands of casualties and more than one million people displaced.
Navantia, one of Homsec's exhibitors, has negotiated the construction of five Avante 2200 corvettes for a value of two billion euros for the Saudi government. Some anti-militarist organisations and groups have expressed concerns that these vessels will be used to strengthen the naval siege on Yemen, worsen conditions for civilians and violate international humanitarian law.
According to the Delàs Center for Peace Studies, other contracts of companies participating in Homsec with the Saudi government include the possible sale of 250-270 Leopard tanks valued at three billion euros and 72 Eurofighter fighter aircraft worth 5.34 billion euros.
In recent years, Spain has sold five in-flight refuelling aircraft, as well as artillery shells, bombs, torpedoes, missiles, aircraft spare parts and other equipment to Riyadh.
Saudi Arabia is the second largest importer of arms in the world, and its acquisitions during the 2011-15 period have increased by 275% compared to its 2006-11 acquisitions.
Hernan Crespo for euronews.