Bulgaria: exit polls suggest win for Boiko Borisov's GERB
Comments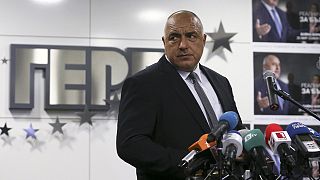 Boiko Borisov, who resigned as prime minister in November, 2016, amid apparent waning support for his conservative party, appears to have made a comeback in Bulgaria's parliamentary elections.
Exit polls suggest his centre-right GERB party will claim victory with around 32 percent of the vote, or between 86 and 88 seats in Parliament, meaning he would need to form a coalition government.
"This result confirmed categorically that GERB should be the leading ruling party," he said, adding that GERB would make "utmost efforts" with potential coalition partners to form a government quickly.
In the run-up to the snap election, Nationalist party the United Patriots was pegged to be the deciding factor in a tight race. It seems set to take home an estimated 9.5 percent of the vote, representing between 25 and 27 seats.
The BSP Socialist Party was Borisov's main contender throughout the campaign. It seems set to win in the region of 28 percent, or 75-77 seats.
BSP party chief, Kornelia Ninova, has vowed to improve ties with Russia, even if it poses problems for relations with Bulgaria's European Union partners.
The election was triggered by Socialist-backed candidate Rumen Radev's win in November's presidential vote.
Borisov stepped down as prime minister in the wake of his victory.