Pro-Russia candidate wins Bulgaria's presidential run-off
Comments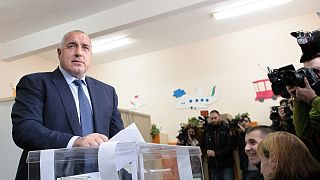 Political outsider Rumen Radev has won Bulgaria's presidential run-off, inflicting a convincing defeat on the ruling party's candidate.
"Being pro-European does not mean being anti-Russian"

Bulgarian president-elect
Radev was backed by the opposition Socialist Party and is a Russia-friendly newcomer to politics, having been the former commander of Bulgaria's Air Force.
Exit polls have him winning with just over 58% of the vote compared to around 35% for his opponent, Tsetska Tsacheva, the candidate of the ruling centre-right GERB party.
At a press conference Sunday evening Radev applauded those who had backed him:
"Today democracy in Bulgaria won over apathy and fear, despite the bluff of the government about an apocalypse, you voted for change."
But Bulgaria is now facing months of political instability. The country's centre-right Prime Minister Boyko Borisov has promised to quit sparking the likelihood of an early election followed by months of difficult coalition talks.
Borisov told reporters: "On the first working day of the parliament we will tender the government's resignation."
The election of Radev and his Russian sympathies is being seen a blow to Bulgaria's western European allies
and underscores Moscow's growing influence in southeastern Europe.
President-elect Radev has said he will keep Bulgaria in NATO but has affirmed that "being pro-European does not mean being anti-Russian".
Although the position of president is largely ceremonial, he can sway public opinion and send legislation back to parliament.
Brexit ✓
USA ✓
Bulgaria ✓
Moldova ✓
Netherlands
Italy
France
Germany pic.twitter.com/C1Tj7jtqf4

— Russian Market (@russian_market) November 13, 2016