Obamacare continues, America reacts
Comments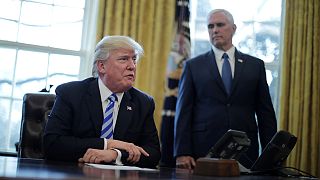 As US President Donald Trump reels from a major setback to his proposed healthcare bill, people around the country have expressed mixed reactions to the news Obamacare seems likely to stick around for a while longer.
"It's a setback for him not for the people," said Lianne Vasquez in Los Angeles.
"I'm really happy. I'm covered through Obamacare, so I was really worried during the last month or two about all of this that's going on. I'm happy that Planned Parenthood is still being funded," Ashley Hayward added.
However, Arebrila Johnson said she didn't think it was a setback for Trump.
"Lazy people just use that and not do anything. We need to be challenged. It's the best thing because look at these prices that is not going to help anybody. I don't want it. I'm going to get private insurance anyway," she said.
Trump has, on a number of occasions, attacked 100-year-old not-for-profit organisation Planned Parenthood, which provides reproductive health care and information.
The irony is that the Freedom Caucus, which is very pro-life and against Planned Parenthood, allows P.P. to continue if they stop this plan!

— Donald J. Trump (@realDonaldTrump) March 24, 2017
Dinah Stephens, the Senior Director of Public Affairs at the LA branch of PP was jubilant about the new healthcare legislation being shelved.
"We feel like it's a real victory for the millions of women and men in this country who are standing up to demand their access to healthcare not be taken away."
Today was a victory for all Americans. pic.twitter.com/LX6lzQXtBR

— Hillary Clinton (@HillaryClinton) March 24, 2017
Following the news he didn't have backing for his plans, the president tweeted that his predecessor's Obamacare insurance will "explode". He claimed a "great healthcare plan for THEPEOPLE" would be "pieced together."
ObamaCare will explode and we will all get together and piece together a great healthcare plan for THE PEOPLE. Do not worry!

— President Trump (@POTUS) March 25, 2017