Trump blames Democrats for healthcare bill failure
Comments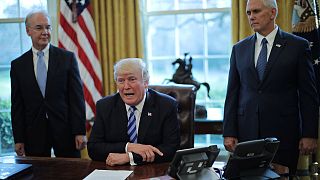 President Trump has turned the tables following his humiliating political defeat to replace and repeal Obamacare in Congress.
Despite his Republican party's failure to pass a new healthcare bill, Trump blamed Democrats for his setback.
The president has said he is willing to tackle the issue again but also vowed to shift his attentions to tax reform.
"The best thing we can do politically speaking is let Obamacare explode. It is exploding right now. Many States have big problems. Almost all of the States have big problems.''
Trump added: "We probably be going right now for tax reform which we could have done earlier but this really would have worked out better if we could have had some democrat support."
The healthcare bill was seen as the first major legislative test for Trump who was elected on promises to get big deals through Congress.