Italian capital prepares to celebrate Treaty of Rome
Comments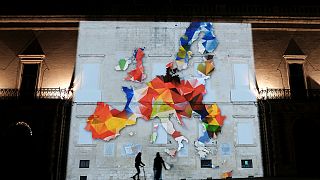 The Italian capital has been putting the finishing touches as the city prepares to mark 60 years since the signing of the Treaty of Rome.
But Brexit, which should take effect at the end of March, and the rise of populist political forces loom large ahead of the birthday celebrations.
With the EU facing arguably its biggest crisis in its six decade history, pro-Europeans have called on leaders to relaunch the bloc.
Speaking to Euronews, Monica Frassoni, co-president of Europe's Greens said: ''We should not believe that 60 years ago everyone was in love with Europe. This was not the case… But gradually the need for European Union became obvious. But when the benefits aren't so clear we can't expect people to attach themselves to it just like that. So I think, just like 60 ago when we had to launch of a mission of conquest, we have to do it again today. Obviously not like 60 years ago, but on the basis of things which are so much more visible and tangible like sustainable economic development which can truly be an element of hope.''
Meanwhile, security inside Rome ahead of the treaty celebrations remains ultra tight
Some 5000 police have been deployed and public transport has been completely stopped from entering the centre of the city.