Ankara reacts angrily to German arms export restrictions
Comments
By
Euronews
with
Reuters, Hurriyet, Deutsche Welle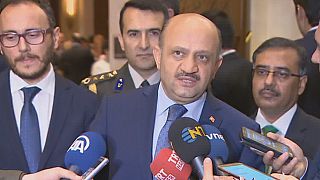 An angry reaction from Ankara to German restrictions on military exports has further stoked tensions between the NATO allies.
Berlin has rejected at least ten applications for arms transfers to Turkey in recent months amid politicians' fears the weapons could be used on Turkish citizens.
Turkey's Defence Minister, Fikri Işık, was scathing in his response.
"We expect to see common sense from Germany. Unfortunately, while we see German guns in the hands of terrorists, Germany is ignoring this and is seeming to put restrictions on Turkish weapons demands. This is unacceptable."
The dispute, coupled with an ongoing argument over the cancellation of Turkish political events in Germany, has thrown an EU-Ankara deal on illegal migration into question.
It has vastly reduced the number of people travelling by land from Turkey into Greece and elsewhere in the Union this year.
However, the tighter controls mean some are turning to new, more perilous routes. On Friday (March 24) at least 11 people died, including five children, when their plastic boat sank in the Aegean Sea.