Watch: Cheeky little girl snatches Pope's skullcap
Comments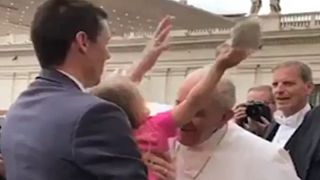 A little girl got a laugh from the Pope and the nearby crowd in Rome on Wednesday (March 22) when she grabbed the skull cap from off his head as he bent down to kiss her.
Three-year-old Shirley is American and was in town visiting her Italian grandfather, who recorded the whole scene.
The Pontiff was clearly amused by the incident as he took back his skull cap, laughing along with his bodyguards and aides, and smiled affectionately at the cheeky toddler.