Northern Ireland: thousands attend Martin McGuinness funeral
Comments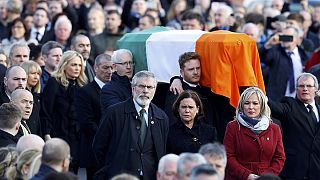 Thousands of people including world leaders have turned out for the funeral of Martin McGuinness, the former IRA commander who played a pivotal role in Northern Ireland's transition to peace.
Before the church service his coffin, draped in the Irish flag, was carried through the streets of Londonderry.
The priest said McGuinness, who died earlier this week aged 66, knew how many people struggled with his IRA past, but the presence of so many people was an eloquent testimony to "a complex man".
The Irish nationalist was instrumental in convincing the IRA to lay down its weapons.
He spent 10 years as deputy first minister under the province's power-sharing agreement.
Former leaders who attended the funeral included Bill Clinton and Tony Blair. Sinn Fein president Gerry Adams said Ireland had lost a hero.
Thousands line streets as Northern Ireland buries Martin McGuinness https://t.co/oSBgtbT29k

— Reuters World (@ReutersWorld) March 23, 2017