"Jesus's tomb" reopens in Jerusalem after months of restoration
Comments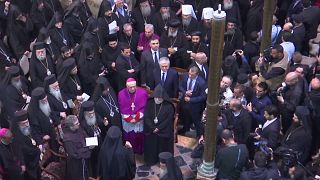 After nine months of restoration work, the tomb where many Christians believe Jesus was buried has re-opened to the public.
An official ceremony's been held in the Church of the Holy Sepulcher in Jerusalem's Old City, where experts have reinforced the tomb and carried out repairs on the masonry.
The Greek Orthodox Patriarch of Jerusalem, Theophilos III, told the ceremony: "This restoration of the sacred Edicule is not only a gift to our Holy Land, but to the whole world.
"The unity (that this restoration) is demonstrating must be an inspiration to the peoples of our region, especially in times when our world is experiencing unfathomable difficulties and confusion."
Funding for the repair work came from the Greek Orthodox, Armenian and Roman Catholic denominations, who share custody of the church.
Disagreements between them over how to carry out repair work has been going on for decades, holding up long overdue plans for restoration.