Ousted S.Korean president is questioned over bribery allegations
Comments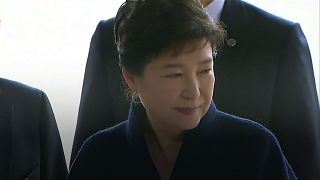 Ousted South Korean leader Park Geun-hye has been question by prosecutors over a corruption scandal which has cost her the presidency.
Park was officially removed from office last week when the Constitutional Court upheld her December impeachment by parliament.
South Korea's ousted president Park Geun-hye says 'sorry' as she undergoes questioning https://t.co/7HgJBb11i8pic.twitter.com/t4DDU03XjL

— Business Insider (@businessinsider) March 21, 2017
On arriving at prosecutors' offices the 65-year-old apologised to the country although she admits no wrong-doing.
Park has been accused of colluding with a friend to pressure big businesses to donate to foundations that backed her policy initiatives.
Her supporters gathered outside while her questioning began. The process could last several days. Now that she has lost her presidential immunity, she could face more than 10 years in jail for abuse of power and bribery.
South Korea's president is impeached https://t.co/mSvazNvgCW

— The Economist (@TheEconomist) March 20, 2017