Iran's supreme leader slams government record on economy in New Year message
Comments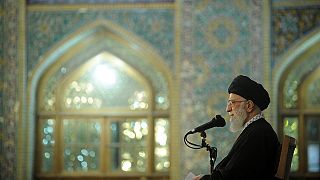 Iran's supreme leader, Ayatollah Ali Khamenei has criticised the government's economic record, saying their efforts have fallen short of expectations.
During his New Year's speech at Imam Reza shrine, he urged the government to boost domestic production while accusing western countries of using economic leverage to hurt the economy and sow discontent.
"The enemies' purpose is to make Iranian people disheartened and disappointed with the Islamic Republic through economic pressure and to create a rift between the people and the Islamic regime and pursue their (the enemies') plans (against Iran) this way."
The New Year or Nowruz, is the country's most important national event. The supreme leader called for a new year of a 'resistance economy of production and employment', to make the country more self-sufficient, which stands in contrast to President Rouhani's policies of opening up to international trade and investment.