Japan court rules state liable for negligence over Fukushima
Comments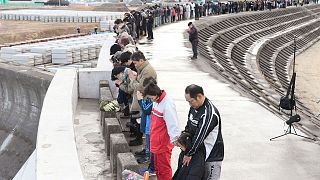 A court in Japan has ruled for the first time that the state is jointly liable for negligence over the Fukushima nuclear disaster in 2011.
The district court north of Tokyo found that the government and the plant's operator Tepco were responsible.
At the time the then prime minister Naoto Kan was accused of being slow to acknowledge the severity of the tragedy.
He was forced out of office six months later.
More recently he has blamed Tepco, saying he couldn't get accurate information out of the operator at a crucial moment.
Tepco said in a statement it would review the contents of the ruling before responding. It has long been criticised for ignoring the threat posed by natural disasters to Fukushima.
The ruling came on behalf of 137 evacuees seeking damages for the emotional distress of fleeing their homes as radiation spread from the nuclear plant.
Some 15,000 people were killed and 200,000 displaced six years ago after the earthquake and tsunami, which swamped the Fukushima Daiichi plant, causing meltdowns at three reactors.