What is 100% electric, 100% European and soon to be 'out of this world'?
Comments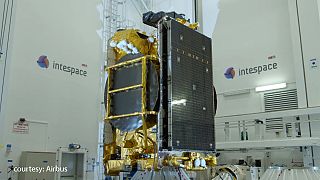 Final preparations are underway at the Airbus satellite assembly facility in Toulouse, southern France for a landmark launch.
It involves EUTELSAT 172B, the first European, high power all-electric telecommunications satellite.
Eutelsat's Chief Technical Officer Johan Leroy explained to Euronews what all the fuss is about.
"It is mainly the electric propulsion. For the first time it will be used for deploying in orbit as well as keeping in place a European-built satellite. Air passengers will be able to benefit from an internet connection of the same quality as they have on the ground," he said.
#LetsLaunch All-electric high-power EUTELSAT 172B readying for journey to Kourou. Watch out for launch on 25/04 https://t.co/pvYyd23WVc#IFCpic.twitter.com/Bm9qHNRZj9

— Eutelsat (@Eutelsat_SA) 15 mars 2017
EUTELSAT 172B will be launched on April 25 on board an Ariane rocket from Europe's spaceport in French Guiana. And one of its key functions will be ensuring that people are connected and entertained while flying in the Asia-Pacific region.
Our correspondent in Toulouse, Claudio Rosmino, said:
"In a few years time, this kind of electrical propulsion satellite will represent 50% of the market. There is also a growing demand for connectivity on board aeroplanes. It is a business which, in the next five years, will be worth hundreds of million of euros."