Tillerson starts key Asia tour facing US foreign budget cuts
Comments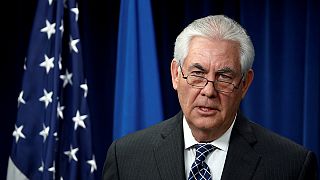 US Secretary of State Rex Tillerson has started his first trip to Asia in Japan, a country in the frontline of the North Korean nuclear threat.
But as his baptism of fire in crisis diplomacy begins, the former oil executive will likely have to tighten his purse strings.
The White House, eager to boost defence spending, wants to cut the US foreign affairs budget by more than a quarter.
Tillerson says he willingly accepts the "challenge".
"Clearly the level of spending the State Department has been undertaking in the past, in particular this past year, is simply not sustainable," he said in Tokyo, where he met Japanese Prime Minister Shinzo Abe and held talks with Japan's Foreign Minister Fumio Kishida.
#SecState Tillerson met with PM @AbeShinzo to reaffirm strength of US-Japan alliance & discuss shared goals. pic.twitter.com/873DGUUmMO

— アメリカ大使館 (@usembassytokyo) 16 mars 2017
Tillerson, who has no diplomatic experience, will visit South Korea and China later in the week.
North Korea fired four ballistic missiles into the sea off Japan earlier this month and is working to develop nuclear-tipped missiles that can reach the United States.
Noting the failure of two decades of diplomatic and other efforts to denuclearise North Korea, Tillerson said a new approach was now needed.
North Korea looms over US Secretary of State Rex Tillerson's first trip to Asia https://t.co/8WOFZ7H5Jrpic.twitter.com/uMdLsLwsG0

— CNN International (@cnni) 15 mars 2017
"So we have 20 years of failed approach," Tillerson said.
"That includes a period where the United States has provided $1.35 billion in assistance to North Korea as an encouragement to take a different pathway."
He added: "In the face of this ever-escalating threat, it is clear that a different approach is required. Part of the purpose of my visit to the region is to exchange views on a new approach."