Spanish taxi drivers strike against Uber and Cabify
Comments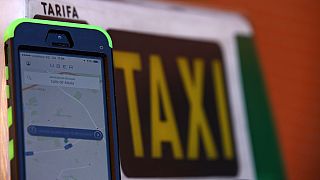 Thousands of Spanish taxi drivers have gone on strike in Madrid and Barcelona to demonstrate against what they believe is unfair competition from shared ride businesses like Uber and Cabify.
The services face protests worldwide for offering to match private vehicle owners with customers seeking a lift.
It has caused anger in the Spanish capital where the taxi sector is heavily regulated.
Taxi driver Concepcion Guardado said they were not against competition, but that rules had to be respected.
"What we don't want is these people not following the legislation and trying to compete with us as they did with UberPOP, an application using tourism vehicles without the appropriate licence," she said.
Taxi drivers' unions are calling for tighter restrictions on shared ride services.
Uber was banned in Spain in 2014 but began operating again in Madrid last year with a more regulated service. Cabify is available in several cities.