Spain: Six-day taxi strike ends
Comments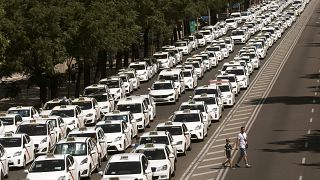 The Spanish taxi drivers six-day strike ended late on Wednesday.
It's after the government says it'll limit licenses for online cab companies such as Uber and Cabify.
The taxi drivers claim online companies work under less restrictive regulations, that it made it difficult to compete and their fares were being undercut on trips to airports and other travel hubs.
Thousands blocked streets with their vehicles across the country in protest, bringing traffic to a standstill.
From September, they'll be one permit for every 30 taxi permits.
It means more than six thousand Uber and Cabify drivers will be laid off as there are currently 9,000 permits granted and there are 70,000 taxi permits.