Shooting at high school at Grasse in southern France
Comments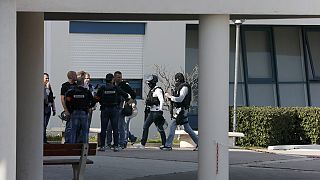 At least three people have been injured in a shooting at a secondary school in Grasse, southern France, on Thursday lunchtime.
Government and police sources say a student, heavily armed with several weapons, opened fire. The suspect is said to have targeted the school's head teacher, who is among those hurt.
Reports say a 17-year-old student has been arrested. The local authority has said the incident involved two students and was "not terrorist-related".
According to the French news channel BFM TV the shooting happened around 1pm local time at the "Lycée Tocqueville" in Grasse. Police officers from the specialist "RAID" intervention unit were quickly dispatched to the scene.
The suspect is said to have been armed with several firearms. Reports spoke of a second person being sought, but BFM TV later said this had been discounted by police.
An interior ministry spokesman said eight people had been injured. Media reports suggest some may have been hurt in the aftermath of the shooting and that their injuries are slight.
The French government launched a terrorist attack warning via its phone application, before the town hall said it was not terror-related.
Residents in the town, in the hills above Nice, were told to remain indoors following the incident. Security measures were put in place at other local schools, to keep children inside. Parents have been told not to come to the schools.
The French education ministry said the minister was heading to Grasse.