Letter bomb injures IMF employee
Comments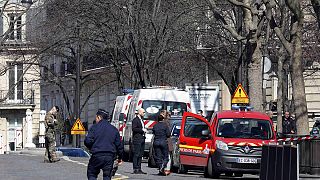 An International Monetary Fund (IMF) employee was injured by a letter bomb a day after a similar device was sent by Greek militants to German Finance Minister Wolfgang Schaeuble.
Conspiracy of Fire Cells, which had previously claimed a series of letter bombings at foreign embassies in Athens in 2010, said it send the bomb to Berlin as "part of the second act of Nemesis Plan".
The device was intercepted before its final delivery.
It is unclear to what "Nemesis Plan" refers and whether there is a link to the attack on the IMF's headquarters in Paris.
In the latter incident a female employee suffered non-life threatening injuries to her face and arms.
Germany and the IMF are two of the major players in a bail-out programme which has forced Athens into tough and unpopular austerity measures.