Ukraine slaps cargo ban on traffic with separatist east
Comments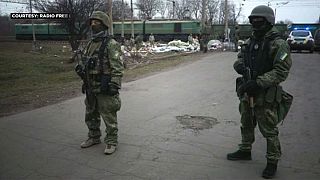 Ukraine imposed a cargo ban on traffic with the separatist east of the country on Wednesday.
It marks a victory for protesters who, for weeks, have mounted barricades, to try to stop trains carrying coal and other goods from getting though.
President Petro Poroshenko asked for the ban to be implemented, in something of a U-turn.
The government in Kyiv had previously sent in troops to try to thwart the blockade by military veterans, MPs and other activists, amid fears over the economic fallout.
Now though officials say the suspension will remain until rebels hand back control of a number of Ukraine-registered businesses and comply with the 2015 Minsk peace agreement.
#Ukraine announces suspension of cargo traffic with separatist-held areas https://t.co/Wq2o9tpRwwpic.twitter.com/CEVXkNNDkI

— RFE/RL (@RFERL) 15 mars 2017
Pro-Russia separatists had warned they would seize assets in areas they control unless the Ukrainian government ended the rail blockade.
Moscow has said the rebels' move to take control of the companies on its territory was partly understandable because the blockade had put the separatists in "an even more difficult situation".
"The steps made by the administrations of these regions, … can be understood to a degree," Kremlin spokesman Dmitry Peskov told journalists earlier this month.
The cargo ban and rebel retaliation have highlighted the mutual economic dependence between the two sides, despite years of military conflict that have left more than 10,000 people dead.
Separatists say local industrial firms are suffering, while Ukraine has said the country could be hit by rolling blackouts and lost foreign export income of up to $2 billion.
with Reuters