Hungarian PM directs political fire at EU during rally
Comments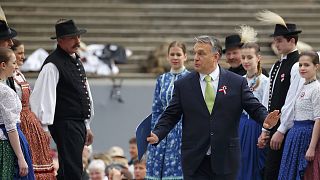 An estimated 20,000 Hungarians have taken part in rallies in central Budapest, upholding the traditional way to commemorate their 1848 revolution against the Habsburgs.
Many of them, opposition activists, blew whistles and sounded horns in an attempt to drown out a speech by Prime Minister Viktor Orban.
Hundreds of police were deployed to keep pro and anti- government supporters apart.
When he did get to address the crowd Orban directed his fire at the European Union criticising its lack of concern about Hungary's future:
"We must stop Brussels. We must protect our borders. We must block the relocation (of migrants)."
Orbán call for European nation to protect their borders against the invasion. https://t.co/dcr7sY8zZt#Hungary

—

RAMZPAUL

(@ramzpaul) March 15, 2017
One opposition speaker and former presidential candidate László Majtényi drew parallels with Hungary's past.
"A liberty-loving nation can become a free nation not only by fighting off foreign oppression, but when it chases away its own leaders."
Reporting for euronews Andrea Hajagos said:
"Hungary's national holiday is traditionally a day on which the people focus on political issues. Perhaps this will be extended next year when the country will be facing an election campaign as well."
1st demand of #Hungary revolutionaries in 1848: freedom of press, abolition of censorship. Yet, press freedom today restricted pic.twitter.com/dSQZ65CSBU

— Lydia Gall (@LydsG) March 15, 2017