Dutch party leaders vote in many-horse race
Comments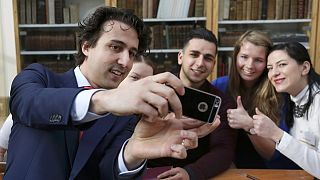 Most of the attention, as the Dutch went to the polls on election day, has been on the two frontrunners: the centre-right VDD party of Prime Minister Mark Rutte, and the far-right Party of Freedom (PVV) leader Geert Wilders, who both voted in The Hague.
However more than two dozen parties are running in the election. Several are targeting a place in a future coalition, with some tipped to play a very influential role.
Jesse Klaver also cast his ballot in The Hague. His small Green Left party is forecast to emerge one of the main groups in parliament.
The 30-year-old son of a Moroccan father and part Indonesian mother struck a very different tone from at least one of his rivals.
"Geert Wilders is losing momentum in the polls. We're gaining momentum in the polls. And I think that's the message we have to send to Europe. You can't stop populism but what I would say to all my left-wing friends in Europe: don't try to fake the the populace. Stand for your principles. Be straight. Be pro-refugee. Be pro-European," Klaver said.
#gestemd! Voor een schoner, eerlijker en empathischer Nederland. #stemvoorveranderingpic.twitter.com/FHxthxJgmU

— Jesse Klaver (@jesseklaver) March 15, 2017
The leader of the Liberal Democrats D66 party, Alexander Pechtold, voted in the town of Wageningen near Arnhem.
With a campaign stressing education and jobs, the party is hopeful of achieving the best result in its 50-year history.
Goedemorgen Amsterdam Centraal! Een mooie verkiezingsdag! #stemd66pic.twitter.com/ipuqFNDEHe

— D66 Amsterdam (@d66amsterdam) March 15, 2017
Under the Dutch proportional representation system, many parties are set to gain representation in the 150-seat parliament, in a vote described as highly unpredictable.
Dutch election in quotes
Netherlands: Massive increase in #Amsterdam voter turnout (13:00 CET): 25.8%, up from 14.1% in 2012. #DutchElections#Netherlands

— Europe Elects (@EuropeElects) March 15, 2017
Where are the battlegrounds in the Dutch election? Keep an eye on these regions https://t.co/qRm8THXXvtpic.twitter.com/8y3aRvJ9ZB

— Bloomberg (@business) March 15, 2017